Welcome To Earnbymails.com
This is not a MLM site and definitely not a get rich scheme.
No one is forced to purchase anything at all.
Membership with this site is totally Free!
Get Paid for Receiving, Reading and Visiting the Sites of the Greatest Interest to You!
Effective Immediately (3rd of october 2007)
we do not accept members from the following countries :
China, India, Poland, Japan and Vietnam..
Refer Others and Get Paid
You have to understand English!
English test are given monthly!
# NO POINT Emails if not requested!
# No Minimum Payout can request fortnightly
# Now with PTP! $0.70CPM please read TOS
# 0% activity requirement to earn from your downline!
# Payout Via Paypal and e-gold
(please note 6% fee of total request for e-gold if using the ptp)
# Real Time Payment List Inside!
# Accounts get deleted after 60 or more days of inactivity.
# Earn 15% from your referrals (one level)!
Join Now

Administrative Message #152 - Repeat Admin that everyone should of read already
Hi All

I haven't been around much the passed 3and a half months and i need to explain why.. I don't really like to share my personal life with my business life but i think its time i share what is going on and i hope you can understand..
Nearly 4 months ago i found a lump in my breast went straight to the doctor who sent me straight for that bad bad test and then within a few days i was in surgery and having the lump removed..
I was diagnosed with breast cancer and i have been having chom from then on.. If you have ever experienced chemo you will understand that you can have your good days and your bad days.. Me i was having more bad days than good ones.. i would sit at the computer and start getting sick so i would lay down and it wouldn't be so bad..I still have a few more cycles to go threw but the doctor is happy with my progress..
I am being cared for by my doctor who knows about our family cancer history as he was the one who was with my nan when she passed away with throat cancer and before that he found her lung cancer.. he was also the doctor who found my grandfathers cancer..
So i am in good hands but i have let my sites slide.. Paul has done a excellent job and i want to thank him very very very much and i appreciate everything he does.. I don't want to sell my sites but i do need to get better also..
So i have worked out a plan Payout will be done 2 unless i am feeling totally sick then it might be less..
I am so sorry payouts are so far behind the site isn't in trouble it is just me so to speak.. i have enough money to pay everyone up and clothes the site so please don't worry about being paid i am getting there
If you have emailed me a question and have not got a response i apologize and please send it again..
Please realize that i didn't let anyone online know i was sick until i was dealing with it.. i am find and i am the same Joanne as i was before just not feeling so good but once chemo has finished then i should be back to my cheerful self...
thankyou for your understanding..
And please don't post this in any forum i only want my members to know and not the world..
Thankyou
Joanne

_________________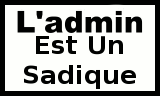 Admin







Nombre de messages

: 1335


Age

: 39


Date d'inscription :

05/04/2007





Sujets similaires
---
Permission de ce forum:
Vous
ne pouvez pas
répondre aux sujets dans ce forum